SUNRISE SOAP COMPANY offers a skin-healthy alternative to many of the harsh soaps found on store shelves. Sunrise soaps are made in small batches, contain high quality oils (which are extremely beneficial to the skin, providing moisture) and produce a wonderful lather. I use pure vegetable, coconut and olive oils, shea butter, cocoa butter, castor oil. Offering a wide – and sometimes wild – selection of fragrances to please everyone. If your skin feels dry and tight after showering, if store-bought soaps are harsh to your face and body, I invite you to sample this affordable pleasure and FEED YOUR SKIN. It will thank you!
We make everything on-site in our visitor-friendly kitchen. Drop in for a visit. You never know what's on the HORIZON.
1.5 Seconds of Fame on National TV!
WATCH THE PCN FACTORY TOUR OF SUNRISE SOAP CO.
~~~~~~~~~~~~~~~~~~~~~~~~~~~~~~~
Did you know that Sunrise Soap won a DOWNTOWN FIRST AWARD for OUTSTANDING MERCHANT OF THE YEAR? Here we are getting the award from last year's winner, Jim of the York Emporium. Fun night!
~~~~~~~~~~~~~~~~~~~~~~~~~~~~~~~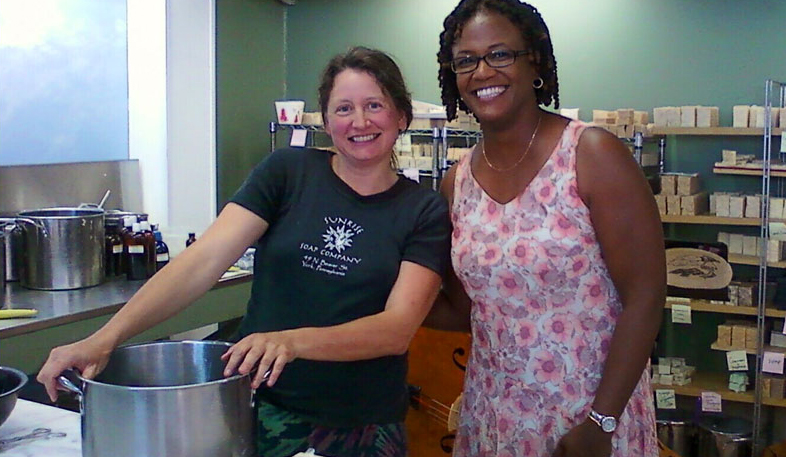 MAYOR OF YORK CITY (Kim Bracey, at right) Named SUNRISE SOAP COMPANY "MERCHANT OF THE MONTH" FOR JULY 2011!
~~~~~~~~~~~~~~~~~~~~~~~~~~~~~~~
WE'VE BEEN FEATURED IN THE WASHINGTON POST!
Check it out: http://tinyurl.com/6k65ec3
~~~~~~~~~~~~~~~~~~~~~~~~~~~~~~~

Let SUNRISE SOAP COMPANY create your next special occasion gift for:
* baby showers
* wedding favors
* bridal showers
* corporate logos
* birthdays
* anniversaries, and more.
I DO PERSONALIZED LABELS FREE!! Gift Certificates and Gift Baskets are always available & a great gift idea too!
LIKE US ON FACEBOOK! Get updates on WHAT'S NEW & WHAT WE'RE UP TO!!!!